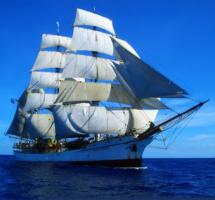 In March of 2018, the barque Picton Castle will set off on its seventh world voyage — an epic year-long voyage under sail. Berths are available for trainees for the full year-long voyage or for individual voyage legs.
Beginning in Lunenburg, Nova Scotia, Canada, Picton Castle will sail south to the Caribbean, then through the Panama Canal, to the Galapagos Islands, islands in French Polynesia, the Cook Islands including Rarotonga and Palmerston Atoll, Vava'u in the Kingdom of Tonga, a number of islands in Vanuatu, Bali, Rodrigues, Reunion, South Africa, Namibia, St. Helena, a number of Caribbean islands and Bermuda before returning to Lunenburg in May 2019.
This voyage is open to men and women ages 18+ of all nationalities. No sailing experience is required, just good health and the desire to be a working part of the crew. Click here to learn more.