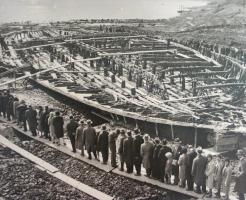 Part of one of Roman Emperor Caligula's ceremonial Nemi ships has been recovered from an unexpected location. The New York Times reports that a four-by-four piece of mosaic flooring from one of the ships has been "sitting in … the Park Avenue apartment of an antiques dealer where it was used as a coffee table often to hold a vase of flowers and, occasionally, someone's drinking glass. … Last month, prosecutors seized the mosaic, saying they had evidence it had been taken from an Italian museum before World War II. On Thursday evening, the piece was returned to the Italian government at a ceremony, along with two other recently recovered antiquities."
However the 2000-year old mosaic panel may have traveled from the small volcanic lake south of Rome to aNew York Park Avenue apartment, the transit may have saved it. The two Roman ships in Lake Nemi, dating from the 1st century were destroyed in 1944 during World War II.
The two ships built for Emperor Caligula at Lake Nemi were essentially floating palaces or pleasure barges with elaborate marble mosaics as well as hot and cold plumbing for baths. For their time, the ships were huge. The first ship recovered from the lake bottom was 230 feet long with a beam of 66 feet. The second, slightly larger, ship was 240 feet long with a 79-foot beam. By comparison, the clipper ship Sea Witch of 1846 was 170 feet long with a beam of 33 feet.
The ships also featured technology which was ahead of its time. They had two types of pumps. One set was piston driven to provide water to the hot and cold baths. The other was a bucket-dredge style bilge pump. The ships also represent the first documented use of ball bearings, which were used in a rotating platform. An anchor with a folding stock was found on the ships, which was very similar to a design later adopted by the Royal Navy in 1841.
The ships were recovered by partially draining the lake between 1929 and 1932. A museum for the ships opened in 1936. After resting on the lake bottom for almost two millennia, the recovered ships would only survive for another eight years. Accounts differ as to whether the fire which burned the ships was started by American artillery fire or was set by retreating German troops in 1944 during World War II.