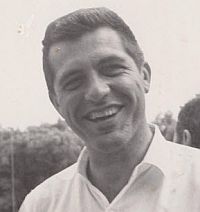 Yacht designer, boatbuilder, and entrepreneur George Cuthberston died on October 3, age 88. Cuthbertson was one of the founders of the Canadian yacht builder, C & C Yachts, which was a major player in the world of sailing in the 1970s and 80s. As a yacht designer, Cuthbertson was known for fast designs with long waterlines, low wetted surface, and light but rigid cored hulls.
George Cuthbertson, who trained as a mechanical engineer, opened a yacht design and brokerage firm not long after he graduated from the University of Toronto in 1950. His design of Inisfree, a 54-footer which was launched in 1958, was an early success.
In 1961, he was joined by George Cassian, an aircraft designer by training. They formed the design group Cuthbertson and Cassian, known to many as C & C. In 1966, Cutherbertson's break-out design for a 41′ custom sailboat with a cored hull, named Red Jacket, decisively won races in the SORC (Southern Ocean Racing Conference), the first Canadian boat ever to do so. More winning designed followed. The victories established C&C Designs as a hot design shop in the world of racing sail.
Led by Cuthberson, C&C joined with three other firms to begin production of their own sailboats. They joined with George Hinterhoeller of Hinterhoeller Yachts, Belleville Marine yacht builder Ian Morch, and custom boatbuilder Erik Bruckmann. They established the firm of C&C Yachts Ltd. in 1969.
C&C quickly grew to be the largest yacht builder in Canada and would later open production facilities in Rhode Island as well. They were known both for high standards of design and engineering, producing racer/cruisers with a distinct bias toward racing. Nevertheless, their Landfall cruising designs were also notable successes. George Cuthbertson was president of C&C from 1973 through late 1981.
Rob Mazza in Scuttlebutt Sailing News writes of Cuthberson: It is difficult to say that without George Cuthbertson there would not have been a fiberglass sailboat industry in Canada, but with George it a truly was a Canadian industry with Canadian builders producing Canadian designed boats which would dominate the Racer/Cruiser dual purpose boat market for many years.
George was the last surviving member of the original founders of C&C, being predeceased by George Cassian, Ian Morch, George Hinterhoeller, and Erich Bruckmann. Remarkably, Perry Connolly of Red Jacket fame, died just five days before Cuthbertson.
George's passing truly marks the end of an era in yacht design.