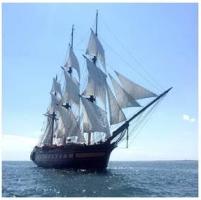 The 200′ long three-masted square-rigger SSV Oliver Hazard Perry was departing from a local dockside festival on Sunday evening when she lost power while maneuvering in very close quarters in Newport Harbor, Rhode Island. The steel ship drifted into four boats. No one was injured in the collisions.
This morning just before 10AM, the Oliver Hazard Perry Rhode Island organization released the following statement:
At approximately 6:15 p.m. on Sunday, October 15, while leaving the Bowen's Wharf Seafood Festival, the Tall Ship Oliver Hazard Perry's two propellers became entangled by a dock line, resulting in the loss of engine power. Thanks to the quick actions of the captain, crew, the Newport Harbor Master, Oldport Marine, and the U.S. Coast Guard, the ship was safely secured to the docks at Newport Harbor Hotel and Newport Yacht Club in the northeast corner of Newport Harbor.
During the incident, the ship did not run aground; however, it came in contact with four boats docked in Newport Harbor. There were no injuries, and minimal damage occurred.
In conjunction with the U.S. Coast Guard, OHPRI staff and crew are continuing to assess the situation for moving the ship safely as soon as possible.
Updates will be issued as more information is made available.
If you have any questions or concerns, please feel free to communicate with OHPRI via social media, email info@ohpri.org or phone 401-841-0080.
Around 1 PM, the organization issued the following update:
This afternoon, Tall Ship Oliver Hazard Perry will return to its permanent berth at Fort Adams, its intended destination last night. A diver has cleared the propellers, and both engines are operational.
In accordance with U.S. Coast Guard requirements, Tug Jaguar from Mitchell Towing in Fairhaven, Mass. will assist with the move while two other tug boats will be on standby for assistance.
The relocation process will begin when the tug boats arrive at approximately 3 p.m.
The four affected vessels are currently being assessed, and owners/captains have been contacted.
With its next programs scheduled for January, Perry will undergo U.S. Coast Guard-required sea trials later this week to ensure the ongoing safety of the ship and crew. All of Perry's 2018 voyages and plans for festival participation are expected to continue as scheduled.