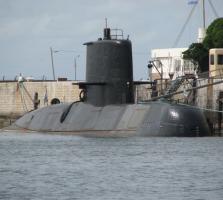 ARA San Juan, an Argentine Navy diesel-electric submarine, was on a routine mission when it went silent on Wednesday. Communications ended while the submarine was en route,with a crew of 44, from Ushuaia naval base, near the southern tip of South America, to the Mar del Plata base, south of Buenos Aires. The submarine's last known position was about 430km off the south-eastern Valdés peninsula.
"The last position [registered] was two days ago," navy spokesman Enrique Balbi said, according to the AP. "Without wanting to be alarmist or overdramatic, the facts are that no form of communications could be established between the vessel and its command, even with the alternative methods that the submarine has.
"What we interpret is that there must have been a serious problem with the communications [infrastructure] or with the electrical supply, cables, antennae or other equipment."
Argentina has received logistics support from the United States, Great Britain and Chile in the form of ships, planes and satellites but so far there has been no further trace found of the missing submarine.