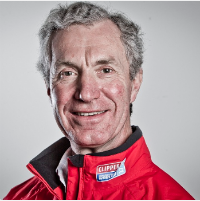 Simon Speirs, a 60 year old sailor from Bristol, UK, has died in the Clipper Round the World Race. On Saturday, Speirs, was washed overboard while handling sails on the foredeck of the Clipper CV30 Great Britain, while sailing in rough seas in the Southern Ocean. Speirs was recovered but never regained consciousness. The cause of death is unconfirmed but is thought to be drowning. Simon Spears was buried at sea this morning. Speirs was a retired solicitor.
A statement by the Clipper Round the World Race organization reads:
The incident occurred on Day 18 in Race 3 of the 13 stage Clipper Race. The fleet was racing from South Africa to Australia. The yacht, which was in sixth place, currently has approximately 1,500 miles left to its destination.
At the time of the incident, Simon was clipped on, wearing his lifejacket, which included an AIS beacon, as well as approved waterproof ocean oilskins. A full investigation will now be carried out, as is standard practice, into the full details of the incident, including the reasons his safety tether did not keep him on board, in cooperation with the appropriate authorities.
A member of the crew since Race Start in the UK on August 20, 2017, Simon was a highly experienced sailor with over 40 years dinghy experience and a Coastal Skipper licence.
He also successfully completed the Clipper Race Coxswain Certificate (CRCC) in February this year in anticipation of his challenge. Designed in collaboration with the Maritime Coastguard Agency (MCA), and the Royal Yachting Association (RYA) specifically for the Clipper Race, this involved an intensive two-week course, in addition to the four weeks of compulsory training that all Clipper Race crew must complete which concentrates on safety at sea.
This is the third death in the last two Clipper Round the World races. In the 2015-2016 race, two sailors, Andrew Ashman, 49, and Sarah Young, 40, both died in separate incidents on the same boat, IchorCoal. Ashman died after being struck by rigging during a gybe, while Young died after being washed overboard. The Clipper Round the World Race had no prior fatalities in the almost two decades that the race had been sailed since 1996.