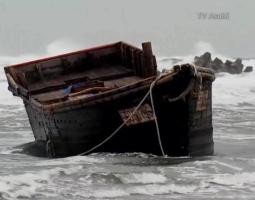 A derelict wooden boat washed ashore on Monday on Miyazawa beach in the northwest of Japan's main island Honshu. The boat's only cargo was eight skeletons. Evidence suggests that the boat and the bones came from North Korea. This boat is the fourth vessel believed to be North Korean to have washed ashore or have been rescued in Japanese waters this month alone. Fifteen of those aboard these vessels were found dead while eleven survivors were rescued and returned to an uncertain fate in North Korea.
Sky News reports that forty-four wooden vessels believed to be from the Korean peninsula have washed up on Japanese shores – or drifted off the country's coast – so far this year, compared to 66 in the whole of 2016.
The "ghost fleet" is, tragically, nothing new. We posted in 2015 about the ghost fleet when 11 derelict vessels containing 25 dead bodies drifted ashore in Japan in a period of two months. In 2013 and 2014, 80 and 65 "ghost vessels" drifted ashore in Japan, respectively.
Many of the vessels drifting ashore may have been fishing boats and ships overwhelmed in the Sea of Japan which can be notoriously treacherous. The boat on Miyazawa beach, however, did not appear to have fishing gear aboard.
Thanks to Phil Leon for contributing to this post.