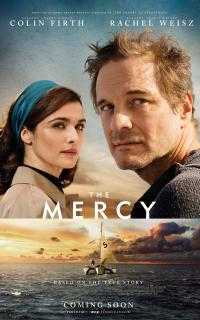 "The Mercy" is a soon to be released film about Donald Crowhurst's attempt to win the Sunday Times Golden Globe Race, the first single-handed, non-stop, around-the-world race in 1969. The film stars Colin Firth as Crowhurst and Rachel Weisz as his wife, Clare.
Crowhurst was one of nine competitors who started the race, in which only one racer, Robin Knox-Johnston, finally finished. Crowhurst had gambled everything on winning the race and began faking his reported positions. Ultimately Crowhust disappeared and is believed to have probably committed suicide.
The movie's release has been delayed and is expected to be in theaters in February of next year. So far, initial reviews have been favorable. Several years ago, Robert Redford's movie, "All is Lost," was so so bad, it was almost a comedy due to the complete lack of understanding of sailing and sailboats shown by the movie makers. "The Mercy" apparently doesn't repeat this mistake. Perhaps most critically, the movie has received a good review from one sailor who knows the topic well, Robin Knox-Johnston. YBC.com comments:
Sailors will be relieved to know that unlike a certain Robert Redford sailing film, The Mercy doesn't leave yachtsmen and women tutting and shaking their heads in disgust during the sailing scenes. Ok, so there were a few modern boats in Teignmouth harbour asTeignmouth Electron leaves the Devon port but other than that, the sailing in the film remains relatively solid.
And if you need more of a ringing endorsement, then this is what one of the original Golden Globe Race competitors had to say following the screening of The Mercy. "It was a great film," said Sir Robin Knox-Johnston, who was the only competitor to complete and subsequently win the original race.
Here is the trailer for "The Mercy."
The Mercy – Official Trailer (2017) Colin Firth, Rachel Weisz Drama Movie HD