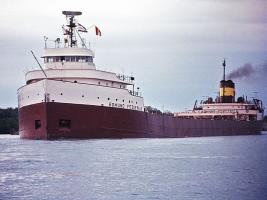 SS Edmund Fitzgerald, an American Great Lakes ore carrier, sank in Lake Superior in a storm on November 10, 1975, 42 years ago today. The crew of 29 were lost when the freighter sank loaded with 26,000 tons of taconite, iron ore pellets, in 530 feet about 15 nautical from Whitefish Bay. What is remarkable is that exactly why and how the bulk carrier sank remains a mystery to this day.
The wreckage of the ship was located within days. The bow section was upright some distance from the stern which was upside down on the bottom. Roughly 200 feet of vessel around midships was missing.
Following underwater surveys, the US Coast Guard concluded that the Fitzgerald likely sank after progressive flooding of water into the holds from improperly secured hatch covers. The National Transportation Safety Board (NTSB) disagreed. Based on crushing damage to some of the hatch covers they suggested that the sinking was due to sudden flooding when the vessel's hatch covers were stove in by breaking water on deck.
The Lakes Carriers Association (LCA) believed that the more probable cause of the Fitzgerald loss was due to gradual flooding following the vessel grounding in the Six Fathom Shoal northwest of Caribou Island. Subsequently a 1976 Canadian hydrographic survey disclosed that an unknown shoal ran a mile further east of Six Fathom Shoal than was shown on the Canadian charts.
Other independent researchers and experts argued that the Fitzgerald was overwhelmed by the storm and may have been capsized by a series of extreme or rogue waves. Others have suggested that the ship suffered a massive structural failure on the surface and broke apart. The Coast Guard and the NTSB both believe that the ship broke up after hitting the bottom.
Regardless of the lack of agreement on how the ship sank, the loss led to changes in Great Lakes safety regulations including the mandatory carriage of survival suits, depth finders, positioning systems, increased freeboard, and more frequent vessel inspections.
Here is a tribute to the 29 lost crew produced by Joseph Fulton featuring the icon song about the loss by Gordon Lightfoot.