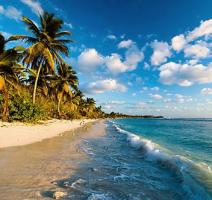 An American diving in a tour group off Costa Rico's Cocos Island was attacked and killed yesterday by a tiger shark. The name of the victim has not been released and the circumstances of the attack are not known. The dive master was also attacked and seriously injured. He is reported to be in stable condition.
Cocos Island is a Costa Rican National Park roughly 300 miles off Puntarenas on Costa Rica's Pacific Coast. The sharks are a big part of what attracts tourists to the island, which has been named one of the best 10 scuba diving spots in the world by PADI (Professional Association of Diving Instructors). Surrounded by deep waters with counter-currents, the island attracts large schools of hammerhead sharks, rays, dolphins, orcas and other large marine species. The schools of hammerhead sharks are among the largest in the world.
What makes the recent attack so shocking is that, according to the Shark Attack Data website, there have been only twelve shark attacks recorded in Costa Rica, not including the recent fatality, since 1919. Of these, only four attacks were fatal. Of the attacks recorded on their database, no attacks were near Cocos Island, prior to yesterday's attack.
There are at least ten species of shark which frequent the waters around Cocos Island. The most dangerous is the tiger shark, which can reach a length of up to 20-25 feet. The tiger is considered by many to be the second most dangerous shark in the world behind the great white. For reasons not fully understood, tiger sharks disappeared from the waters around Cocos about 30 years ago and only returned in the past few years.
A video of diving with tiger sharks off Cocos from 2012:
The Return of the Tiger from Edwar Herreño on Vimeo.