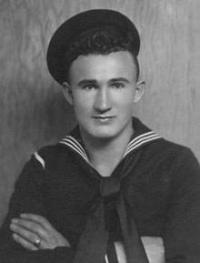 Joe George is no longer the "unknown sailor" on the USS Vestal. The Secretary of the Navy Richard V. Spencer has announced the posthumous award of the Bronze Star Medal with V device for valor to Chief Boatswain's Mate Joseph L. George for heroic achievement during the attack on Pearl Harbor.
On December 7, 1941, Pearl Harbor was under attack by Japanese planes. On the mortally wounded battleship USS Arizona, six sailors were trapped on the control platform on the ship's main mast, which was wholly engulfed in flames. Joe George was Boatswain's Mate Second Class on the repair ship USS Vestal, which was tied up next to the battleship. Hearing the cries from the trapped men, Bosun's Mate George attempted to throw a heaving line to the trapped men across the 70 to 80 feet gap between the Vestal and the control platform. After multiple attempts, George succeeded. He then fed a heavier line across which allowed the trapped sailors to climb hand-over-hand to the relative safety of the repair ship.
Bosun's Mate George was commended for his bravery and initiative but received no other recognition. His actions were not forgotten, however, even if he was not personally remembered. One history of the attack on Pearl Harbor mentions the "unknown sailor" on the Vestal who saved six men from being burned alive. Even George's family was unaware of his heroism.
Then in 1978, Joe George was interviewed by historians from the University of North Texas as part of an oral history of the Pearl Harbor attack. For the first time since the war, the ex-Bosun's Mate told his story.
Joe George died in 1996. Nineteen years after his death, George's daughter, Joe Ann Taylor, heard of the University of North Texas recording of her father for the first time.
CBS News quoted Taylor as saying, "That was so emotional. My father had been dead 19 years, and I hadn't heard his voice in 19 years, and I sat out there in the garage in the car, and I just cried and listened to him talk."
Taylor found her father's log book, which included the commendation from December 7th. She also tracked down two of the sailors rescued from the USS Arizona. Remarkably, Donald Stratton and Lauren Bruner, each now in their 90s, are still alive and able to confirm her father's actions to the Navy.
Today, the Bronze Star Medal will be presented by Rear Adm. Matthew J. Carter, deputy commander of the U.S. Pacific Fleet, to George's daughter, Joe Ann Taylor, on Dec. 7 during a 4:30 p.m. (Hawaii-Aleutian time) ceremony at the USS Arizona Memorial in Pearl Harbor.
Joe George is no longer the unknown sailor on the USS Vestal.