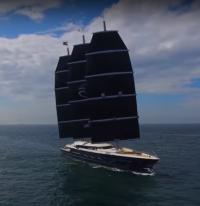 Russian billionaire oligarch Oleg Burlakov recently spent around $200 million to purchase the Black Pearl, a new sailing yacht built by Oceanco Yachts. The yacht has three free-standing DynaRig masts and is strongly reminiscent of the three-masted Dynarig Maltese Falcon, launched in 1990. The Black Pearl is, however, about 20% longer and carries 20% more sail area than the Maltese Falcon. The Black Pearl has a steel hull and an aluminum superstructure.
Given the similarities between the two vessels, it is not surprising that some of the same design teams involved in the Maltese Falcon were also involved in the Black Pearl, including Dykstra Naval Architects, who helped to refine the DynaRig system. The new and improved Dynarig increases performance through changes to mast shape and sail configuration.
The distinctive black sails are more than an homage to a ship in a pirate movie from which the vessel gets its name. The sails also incorporate flexible solar panels to provide electrical power to support the vessel's needs. The ship's controllable propellers are also configured to allow regenerative power generation while under sail.
Here is a video of members of the team involved in the design and construction of the Black Pearl discussing her features.