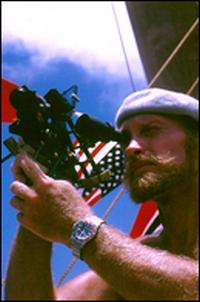 As a teenager growing up in Brooklyn, Norman Baker dreamed of adventure. And he didn't just dream. At the age of 13, he won a contest where the first prize was flying lessons. He became an avid pilot and at the age of 89, died as he lived, in the crash of his 1966 four-seat single-engine Cessna on November 22nd. Captain Baker was flying to join his extended family for Thanksgiving when his plane crashed in a wooded area on Nov. 22, near Pittsford in central Vermont. His body was found in the wreckage. The cause of the crash was under investigation.
Although trained as an engineer, Norman Baker is best remembered as an adventurer. He mined for gold in Alaska, climbed the Matterhorn and lived on a 19th-century schooner that he and his wife had rebuilt.
In 1969 and 1970, he served as the navigator and radio officer on Thor Heyerdahl's two Ra expeditions. Heyerdahl attempted to demonstrate that boats built from papyrus reeds were seaworthy enough to have allowed early explorers to sail from Africa to South America by drifting and sailing on the Canary Current to the Western Hemisphere as long as 5,000 years ago. The first attempt, on 40′ sail propelled papyrus boat named Ra, was a failure. On Ra II, they succeeded in sailing in 57 days from Morocco to Barbados in 1970.
Norman Baker also later sailed with Heyerdahl in 1978, on another reed boat, the Tigris. They sailed through the Persian Gulf and the Red Sea to validate their theory that there had been migration and trade links between ancient Mesopotamia and the Indus Valley, now the site of Pakistan and Western India.
He was a fellow and director of the Explorers Club and served as an advisor to Fara Heim, an expedition searching for signs of Viking settlements in North America.