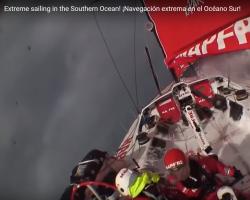 The third leg of the Volvo Ocean Race from Cape Town to Melbourne has subjected the fleet to the fury of the Southern Ocean. With steady winds of 50 knots with gusts to over 60, the seven boats have been surfing down huge waves. Boat speeds of 38 knots have been reported.
Team AkzoNobel suffered damage to the yacht's mast and mainsail in a gybe in very strong winds and massive seas. A section of the mainsail track was ripped from the mast, several battens broken and the sail ripped and punctured. The team continued racing under headsails alone and is attempting to fix the damage today under very challenging conditions.
On the Spanish team boat Mapfre, the watch captain Rob Greenhalgh was swept off the wheel by a breaking wave that crashed over the boat. His lifeline prevented him from being carried overboard and he recovered to take regain control of the helm.
Turn the Tide on Plastic, Team Sun Hung Kai/Scallywag, and Team Brunel have taken a more northerly track to avoid the worst of the weather. The lead two boats, Dongfeng and Mapfree, are the deepest south with Vestas positioned mid fleet.
1300 UTC Daily Live – Thursday 14 December | Volvo Ocean Race