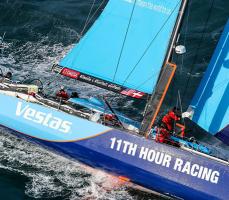 Around 30 NM from Hong Kong, the Volvo Ocean racer Vestas 11th Hour collided with a Chinese fishing vessel on Friday night around 1:20 a.m. local time, which resulted in the death of a Chinese fisherman. The Vestas 11th Hour Racing team issued a Mayday distress call, alerting the Hong Kong Marine Rescue Coordination Centre (HKMRCC). A nearby commercial vessel rescued nine of the crew from the fishing boat, while a tenth was taken to the hospital by helicopter after he was rescued from the water by the Vestas 11th Hour Racing crew. The medevaced crewman later died. None of the Vestas 11th Hour race team was injured in the collision.
The Vestas 11th Hour Racing boat suffered damage to its port bow and retired from the race after the collision. The 65′ sloop was able to motor to Hong Kong under its own power. Vestas 11th Hour Racing is a US/Danish team skippered jointly by American sailors Charlie Enright and Mark Towill.
Fatalities in this race are rare and this is believed to be the first time that a non-race participant has died. The collision took place in the busy waters of the South China Sea.