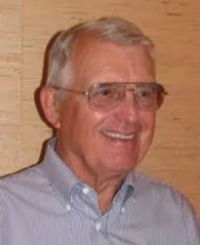 A day before Christmas, Everett A. Pearson died at the age of 84. The co-founder of Pearson Yachts and Tillotson-Pearson Inc., Everett Pearson was a pioneer in the production of fiberglass boats and played a significant role in bringing affordable production boats to the middle class.
In 1955, Everett and his cousin Clinton Pearson began building fiberglass dinghies in their garage in Seekonk, MA. Fiberglass as a boat-building material was considered to be a new and unproven technology. They were approached to build an auxiliary sailboat which would sell for less than $10,000. Designed by Carl Alberg, the boat became the Triton 28. The boat was launched at the New York Boat Show of 1959 and was an immediate success.
Within a year Pearson Yachts had over 100 employees and expanded their line of yachts, many designed by Alberg. In 1961, Grumman Industries purchased a majority interest in Pearson Yachts. In 1969, Everett Pearson, who had left the firm following the Grumman acquisition, founded Tillotson-Pearson Inc. (TPI) with Neil Tillotson. Over the years TPI built many sail and powerboat brands including Freedom, J-Boats, Rampage and Alerion Express. TPI also building wind blades, all-composite bus bodies, SwimEx pools, marine pilings, and many Disney amusement rides and airport people movers.
In 2002, Everett Pearson received the Lifetime Achievement Award for his creative work with composites from the Composite Fabricator's Association.
Everett Pearson is survived by his wife of 62 years, Ginny, and their three children Mark, Tracy, and Suzanne, and eight grandchildren. Mark and Suzanne continue to operate the Pearson Pilings and SwimEx family businesses.
In addition to the thousands of boats still sailing which bear the Pearson name, there are still active fleets of the Pearson Triton 28s still sailing on both the East and West Coasts of the US.