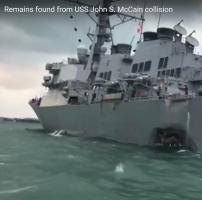 The Navy has announced that five officers involved in two deadly ship collisions are facing a variety of criminal charges including negligent homicide. The officers facing charges include Cmdr. Bryce Benson, former captain of the USS Fitzgerald, and Cmdr. Alfredo J. Sanchez, former captain of the USS John S. McCain. USS Fitzgerald collided with a container ship on June 17, off the southern coast of Japan, killing seven sailors. USS John S. McCain was in a collision with a tanker on August 21, near Singapore, killing 10. Three other officers aboard the Fitzgerald, two lieutenants, and one lieutenant junior grade also will face charges.
The fallout from the two collisions is not limited to the ships' personnel. As reported by the Washington Post: In August, the Navy removed Vice Adm. Joseph Aucoin, who oversaw its 7th Fleet. Aucoin's replacement, Vice Adm. Phil Sawyer, then removed Rear Adm. Charles Williams and Capt. Jeffrey Bennett, who oversaw aspects of the ships' deployments.
In September, Richardson notified Adm. Scott Swift, the commander of U.S. Pacific Fleet, that he will not be nominated to lead U.S. Pacific Command, effectively pushing him into retirement. The Navy's senior officer overseeing surface warfare, Vice Adm. Thomas Rowden, also is expected to step down this week ahead of a recommendation that he be removed, Defense News reported Tuesday.
Both the USS Fitzgerald and the USS John S. McCain are Arleigh Burke-class guided missile destroyers, part of the Destroyer Squadron 15 within the Seventh Fleet.