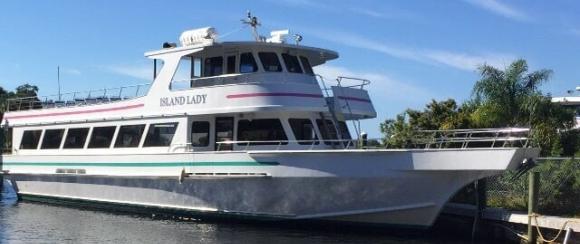 A fire broke out on the casino shuttle boat, Island Lady, around 4PM on Sunday, in the Gulf near Port Richey, Fl. The 34 passengers and 14 crew aboard were forced into the 59-degree water. At least one passenger, a 42-year-old woman, died. 15 passengers were transported to a local hospital with for chest pains, smoke inhalation and other injuries initially reported as not life-threatening. The Island Lady was shuttling passengers to the Tropical Breeze Casino when the fire broke out. The cause of the fire is, as of yet, undetermined.
Other than in casinos on Indian reservations, gambling is not generally legal in the State of Florida. To meet the demand, the casino "cruise to nowhere" industry operates excursion boats and ships which cruise offshore in international waters where passengers can legally gamble. Shuttle boats carry gamblers back and forth from shore to the casino ships.
https://twitter.com/PascoFireRescue/status/952688405141434368
Thanks to Alaric Bond and Bob McKane for contributing to this post.