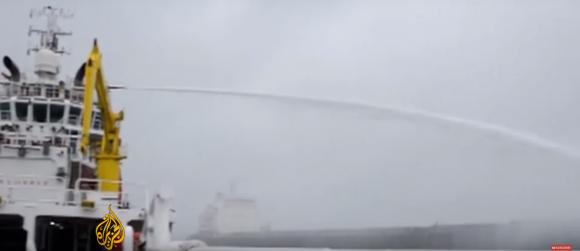 Response teams are struggling to bring a fire aboard the Iranian Suezmax tanker Sanchi under control following a collision on Saturday night with the Chinese bulk carrier CF Crystal. The body of one crew member from the tanker has been found while the remaining 31 are still missing. The collision took place about 160 nautical miles (296 km) off the coast of Shanghai.
The longer the tanker fire burns the greater the concern that there may be an explosion or that the tanker will fail structurally and sink. When the two ships collided, the tanker was loaded with approximately 130,000 tonnes of light crude oil. If the ship does sink close to one million barrels of oil could eve spilled into the East China Sea.
Poor weather continued to hamper the rescue work, Lu Kang, a spokesman at China's foreign ministry, told a regular news briefing. China, South Korea, and the U.S. have sent ships and planes to search for Sanchi's missing crew. The U.S. Navy, which sent a P-8A aircraft from Okinawa, Japan, to aid the search.
The 21 crew from the bulk carrier CF Crystal is reported to be unharmed and that the bulk carrier was not seriously damaged.