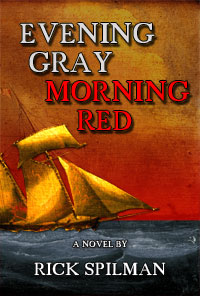 A review of Evening Gray Morning Red by George Jepson in the Winter 2018 issue of Quarterdeck:
Cracking open Evening Gray Morning Red, Rick Spilman's new novel, I was hooked by the first paragraph, which took me back four decades to – yes, wait for it – "a dark and stormy night" on Lake Michigan. Caught in a tempest aboard a 30-foot sloop, a stiff nor'wester drove us into towering seas. Flying only a headsail, we slid down one wave and up another under an inkblack sky, bound, we prayed, for a snug harbor.
Spilman's description of a similar voyage, written by a man who has spent his life steeped in ships and the sea, promised a rousing yarn freshened by a salt breeze.
In 1768, the American brig Mary Ellen is on course to Boston, spurred by a brisk sou'westerly, with a bitter bite in the air. At sixteen, Thomas Larkin, "tall and lanky with a shock of sandy hair tied back in a queue," is in command. After the captain's untimely death from fever, young Larkin, the only one aboard schooled in navigation, was chosen master by the crew. Bringing the Mary Ellen safely into Boston Harbor, earns Thom a purse clinking with silver and gold and a berth as chief mate in a "ship fitting out for the Indies in Providence."
The lad's future looks bright. But these are British colonies, and Royal Navy press gangs are abroad along the waterfront. Thom and Johnny Stevens, recent shipmates, are raising mugs in the Crow and Crown when a detachment of the King's seamen rush in, swinging belaying pins. Thom is pinched and taken aboard HMS Romney, a 50-gun fourth rate ship of the line. Johnny escapes, but volunteers, with a scheme to free
Thom and run at the first chance.
Once at sea, en route to the Caribbean, Thom runs afoul of First Lieutenant William Dudingston, sparking a wicked war between the two men.
A tropical storm, a reckless escape, a bout of fever, and freedom on the Dutch island of Statia
heighten Thom's loathing for Dudingston and the British. "Part of me's still on that ship, ready to . . . spit in [his] eye," he bemoans. "Or maybe cut his throat." The seeds for revolution have been sown deep within Thom.
So when a marauding armed black schooner, flying a Royal Navy Jack and with his nemesis in command, appears along the New England coast, Thom and the Sons of Liberty move to answer the threat.
Spilman's splendid story puts flesh on the bones of dramatic events, which fired colonial passions and eventually led to America's War of Independence. His intimate acquaintance with ships under sail, those who trod their decks, and their role in sustaining a young nation create a lively and fast-paced narrative.
Evening Gray Morning Red is a piece of first-rate historical fiction, introducing Thom Larkin, a bright and appealing Yankee hero.