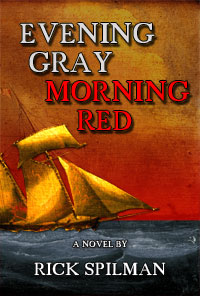 My latest novel, Evening Gray Morning Red, has received not one, but two, wonderful reviews on the Pirates and Privateers blog, by Cindy Vallar and Irwin Bryan, respectively.
Excerpts from Cindy Vallar's review: "Gripping nautical and historical fiction at its best… Spilman deftly brings the period, people, and situation to life in a way that a history can never achieve. … From first page to last, he whisks readers back in time to stand beside Thom and Johnny and experience all the emotions and intrigue they do. When the back cover closes, it's like leaving good friends. You miss being with them, but the voyage was more exciting and fulfilling than you ever imagined. Highly recommended." Click here to read the review in its entirety.
An excerpt from Irwin Bryan's review: "This novel is a well concocted tale from start to finish. As with his other books, when you read Evening Gray Morning Red, you're captivated by this author's rich descriptions and events and escape from your own thoughts and reality." Click here to read the entire review.