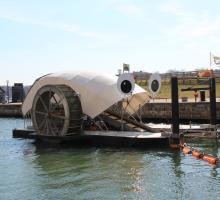 We recently posted about various devices and schemes for cleaning plastic and other flotsam from harbors and waterways. Roberta Weisbrod was kind enough to point out another great example of such a device — Baltimore's Inner Harbor Water Wheel, or "Mr. Trash Wheel" as it is known to locals.
Mr. Trash Wheel is a water-wheel and solar powered conveyor system which lifts drifting trash from the water and drops it into a hopper barge, to be towed away to a disposal center. Since the start of operations in 2014, Mr. Trash Wheel has removed over a million and a half points of trash from the harbor. This includes 628,192 plastic bottles; 724,625 polystyrene containers; 9,935,220 cigarette butts; 7,919 glass bottles; 519,443 grocery bags; and 718,201 chip bags.
Mr. Trash Wheel has worked so well that other trash wheels are being installed all around the harbor. Professor Trash Wheel was installed last year in Canton and a third wheel is planned for the Gwynns Falls. This summer, the City of Baltimore announced that they were installing Captain Trash Wheel in Masonville Cove on the Middle Branch of the Patapsco River.