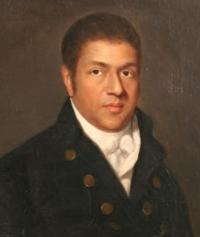 The Maritime Administration identifies Captain Hugh Mulzac as The First African-American Shipmaster. Mulzac was the captain of the Liberty ship Booker T. Washington in 1942. Without intending any disrespect to the memory of Captain Mulzac, he was not the first African American shipmaster, by a wide margin. Of the 2,500 masters who captained the American whaling ship fleet of the 18th and 19th centuries, at least 63 were men of color, for example.
To find the first African-American shipmaster, you need to go back more than 200 years. Who was the first? That is hard to say. Paul Cuffe is a good candidate.
Paul Cuffe was born on Cuttyhunk Island, MA on January 17, 1759, the seventh of ten children of Kofi or Cuffee Slocum and Ruth Moses. His father, a freed black man, was a member of the Ashanti people of Ghana. His mother was a Native American of the Wampanoag Nation of Martha's Vineyard. Cuffee Slocum was a skilled carpenter, farmer, and fisherman, who taught himself to read and write. In 1766, Cuffee Slocum was able to purchase a 116-acre farm in Westport, Massachusetts.
Paul Cuffe went to sea at 16 on whalers and merchant ships, where he learned navigation. During the American Revolution, his ship was captured by the British and Cuffee was imprisoned for three months in 1776 in New York. He returned home to Massachusetts and in 1779 built an open boat which he used to run the British blockade, bringing trade goods to Nantucket and ports on the Massachusetts coast.
He built up a small fleet of open boats and then moved on to schooners. His first seagoing vessel was the 15-ton Box Iron, followed by a 25-ton schooner, Sun Fish, and the 40-ton schooner Mary. By 1796, Cuffee built Ranger, a 69-ton schooner in his shipyard in Westport. By 1800, Cuffee purchased a half-interest in the 162-ton barque Hero. In 1806, he had the 109-ton brig Traveller and 268-ton ship Alpha built. By the early 1800s, Paul Cuffe was one of the most wealthy men of color in the United States.
Today, the Paul Cuffe Farm in Westport is a National Historic Landmark and the Paul Cuffee School, a maritime charter school in Providence, Rhode Island, is named in his honor.