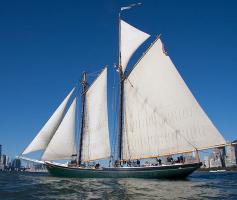 The South Street Seaport Museum's historic Georges Banks fishing schooner Lettie G. Howard will be spending the next two summers in Lake Erie at the Erie Maritime Museum in a collaboration with the Flagship Niagara League. The schooner will be partnering with the Brig Niagara. Lettie G. Howard will offer day sails on Lake Erie from Erie, PA, while Niagara visits other ports during the 2018 and 2019 sailing seasons.
"The Flagship Niagara League has been working toward this collaboration for three years; to finally see it come to fruition is just incredible. The collaboration with South Street Seaport Museum and with the schooner Lettie G. Howard, will give us the opportunity to expand our services while enhancing the visitor experience at the Erie Maritime Museum," Executive Director Shawn Waskiewicz told YourErie.com.
Capt. Jonathan Boulware, Executive Director of the South Street Seaport Museum also commented about the new partnership. "We are thrilled with our programming and partnership with Flagship Niagara League and Erie Maritime Museum. Too often museum artifacts live under glass vitrines, but many of ours, including the much-beloved Lettie G. Howard, clearly serve our mission as working artifacts. We could not be more proud to connect the New York harbor with Erie. It is also fitting that the schooner will make this voyage in 2018, the 200th anniversary of the Erie Canal. New York City and Erie owe their existence to this vital inland waterway. The Erie Canal connected the heartland of America to the ports of the world, making New York the busiest port and the financial capital of the world."
The Lettie G. Howard was built in 1893 in Essex Massachusetts by the noted shipbuilder Arthur D. Story and is considered to be among the last of her type. The schooner was declared a National Historic Landmark in 1989. In 2014, Lettie G. Howard was awarded the Sail Training Program of the Year by Tall Ships America and also won the New York Landmarks Conservancy Lucy G. Moses Preservation Award in 2015.
The Brig Niagara is a replica of the ship Commodore Oliver Hazard Perry commanded in his victory at the Battle of Lake Erie in 1813. Brig Niagara was awarded the Sail Training Program of the Year by Tall Ships America in 2015.