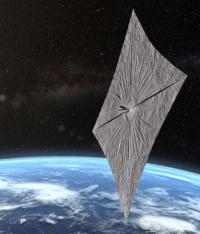 A post not about the sea, but about sailing on the ocean of light from the sun. The idea for solar sailing dates back to 1610, when Johannes Kepler observed that comet tails point away from the sun as if pushed by a celestial wind. In a letter to Galileo, he wrote, "Provide ships or sails adapted to the heavenly breezes, and there will be some who will brave even that void."
Back in 2014, we posted about The Planetary Society's Lightsail project, an attempt to launch a solar sail which would be propelled by the momentum of photons of light radiating from the sun. Their first attempt with a prototype was largely successful and since the non-profit society has been raising money and arranging a launch window to send their 32-square-meter solar sail Lightsail 2 into orbit as a light propelled earth satellite. Lightsail 2 is expected to be launched sometime in 2019 aboard a Falcon Heavy rideshare mission called STP-2.
From the Planetary Society website: Once in space, LightSail 2 will attempt to demonstrate solar sailing as a method of propulsion for small, standardized satellites known as CubeSats. The spacecraft will do this by turning its reflective solar sail against the sun's rays each orbit. Solar photons have no mass, but they have momentum, and will give LightSail 2 a gentle push as they bounce off the sail. The push is no stronger than the weight of a paperclip, but it is continuous and will raise the spacecraft's orbit by up to several hundred meters each day.