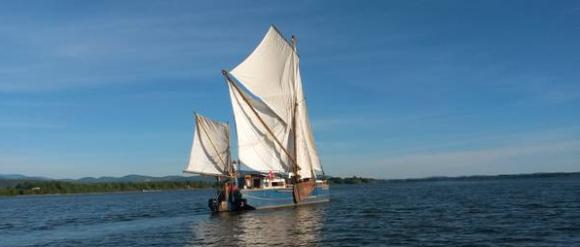 Around six years ago, Vermont farmer Eric Andrus had an idea. Why not build a sailing barge to carry non-perishable produce down Lake Champlain to the Hudson and onward to markets along the river and on to New York City? They raised money and built the sailing barge Ceres. On the 330 mile journey downriver, the barge carried produce from 30 different farms and made stops at historic river towns along the way, selling goods at "pop-up" markets along the riverside.
As a demonstration project, the sailing barge was a success. Economically, however, it didn't pay. Logistics and facilities on the river and especially in New York harbor were challenging and costs were higher than anticipated. So, the 39'6″ long sailing cargo barge Ceres was moved into a barn for storage.
And now, apparently, the time has come for Ceres to find a new owner and a new occupation. On his Facebook page, Eric posted:
After 4 years, this sailing cargo vessel is wearing out her welcome in my barn. So here's another effort to re-home her. Any takers out there? If not as a boat, maybe as a terrestrial tiny house conversion or perhaps a viking funeral prospect?
The sailing cargo barge is listed for sale on Craigslist. The barge is 39'6" long with a 10' beam, with a traditional Thames sailing barge spritsail ketch rig on tabernacles. Click here to learn more.
Note: Old Salt Blog has zero financial involvement with the sale of the barge. Anyone interested should contact Eric Andrus through Craigslist.