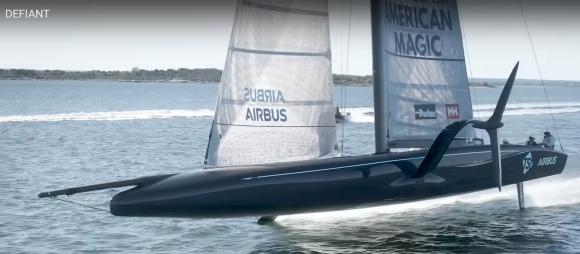 The 36th America's Cup Races, featuring foiling monohulls, is still 18 months away but are beginning to look very interesting. Two very different AC75 contenders have taken to the water recently — The New York Yacht Club Team American Magic's Defiant. and Emirates Team New Zealand's Te Aihe.
Richard Gladwell writing in Sail-World commented about the two boats: The two AC75's launched to date have little in common other than they are 75ft long, are sloop-rigged, and are 13.5ft between the Foil Arm rotation pins. The basics – hull profile, rig style, foil fairings, foil wing shapes, deck, and cockpit layouts – are all markedly different. And that is just comparing the pieces we can see or have been shown.
The most striking difference between the two designs may be the hull forms. New Zealand's Te Aihe features a complex mix of chines and a centerline bustle to help ease the transition from waterborne to foil-borne sailing. Gladwell describes American Magic's Defiant as "almost scow-like being with the beam being carried down the topsides before quite a hard turn of the bilge into a nearly flat bottom."
Only time and hard sailing will determine which of these designs will prove to be the fastest and most nimble on the racecourse, or whether another design entirely will bring home the Cup. The 36th America's Cup will be raced in March of 2021.