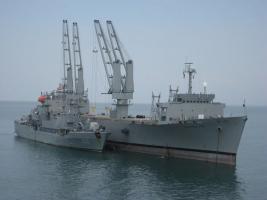 Four ships from the Navy's carrier Harry S. Truman Strike Group are deploying from the East Coast this week. Notably, the aircraft carrier Harry S. Truman is not one of the ships being deployed as it is still undergoing repairs for an electrical system failure.
Military.com reports that "the guided-missile cruiser Normandy and guided-missile destroyers Lassen, Forrest Sherman, and Farragut — will form a surface action group (SAG) as the Truman continues undergoing repairs."
Vice Adm. Andrew Lewis, U.S. 2nd Fleet's commander, said in a statement that the deployment demonstrates the Navy's ability to maneuver and flex to accomplish its tasks on hand. But in an interview with USNI News, which first reported the unique deployment, Lewis also called the situation "unfortunate." He added that it is the first time a surface action group has deployed from the East Coast in 13 years.
In what may or may not be unrelated news, the U.S. Transportation Command (Transcom) has begun the largest turbo activation of the ready Reserve Fleet since 2003 to stress-test the military's ability to quickly deploy the cargo ships required for a massive troop movement.
USNI News reports that the no-notice exercise involves 28 vessels from the Military Sealift Command (MSC) and the U.S. Department of Transportation's Maritime Administration (MARAD). The ships are located on the Atlantic, Pacific, and Gulf Coasts.
The ships have five days to be fully crewed and set sail for what is typically between three and five days to test how they operate. Turbo activations occur several times a year, but usually, involve at most a couple of ships, Sal Mercogliano, an associate professor of military and maritime history at Campbell University in North Carolina, told USNI News. What set's this exercise apart is its scale – involving 28 ships at once.
What makes the activation particularly ominous is that the last time there was an activation of this scope was at the beginning of the Bush invasion of Iraq.
Thanks to Alan Rice for contributing to this post.