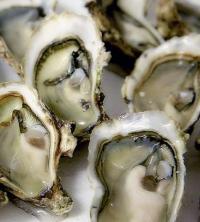 Acme Oyster House has been a New Orleans icon since 1910. My first memory of oysters on the half shell was slurping down a dozen at Acme more than a half-century ago. So, I was alarmed to read that Acme has, at least temporarily, stopped serving raw oysters because they cannot get enough local oysters.
"If we can't get Louisiana oysters, we're not going to serve raw oysters at all," Acme CEO Paul Rotner said.
"Every oyster we get in, we're directing them to the grill so we can at least keep that product available," he said. "And I'm not sure how long we can even keep doing that."
The Louisiana oyster crop has been devastated by this spring's record flooding from the Mississippi River. A massive influx of freshwater which dramatically lowered the salinity, coupled with rising water temperatures, has wreaked havoc on the Lousiana oyster crop. One source is referring to the situation as an "oyster apocalypse."
National Fisherman reports that mortality at some public and private oyster grounds is up to 100 percent, prompting state officials to close all areas east of the Mississippi and plead with the U.S. government for a federal disaster declaration. Mississippi, with mortality running as high as 90 percent, also has declared a fisheries disaster.
"We are struggling," said Carolina Bourque, Louisiana's oyster program manager. "Oyster season last year was a huge decrease and this year is going to be even worse. We are fighting way too many environmental changes. We hope Mother Nature will rebound."
Brad Robin, who has operated Robin Seafood in Saint Bernard Parish for 50 years and leases more than 10,000 acres of oyster bottom from the state, says 80 to 90 percent of his crop is dead.
"My farm has probably lost $30 million to $40 million in product," Robin said. "It's going to take three years to get our investment back. In the history of my business, it has never been this bad."
Many are calling the oyster shortage the worst they've ever seen, worse than the aftermath of hurricanes Katrina and Rita in 2005 or the BP oil spill disaster in 2010, both of which devastated the local industry.
Heavy flooding in the Midwest this spring, along with other extreme weather events, has been linked to climate change. Records show that, since the early 1900s, annual precipitation has risen 15% to 20% in the Upper Midwest. The region, along with areas around the Great Lakes and the Northeast, is projected to see the greatest increase in precipitation.
As noted by CBSNews, the Gulf region is the country's biggest source of oysters, accounting for 51% of U.S. supply. The South Atlantic and Middle Atlantic regions produce far less, at 17% and 15% of total oyster production, respectively, according to the National Marine Fisheries Service.
Last month, the U.S. Commerce Department declared that fisheries along the Gulf Coast had suffered a disaster due to spring flooding, opening up disaster relief funds to the industry.
Louisiana oysters are not the only harvest being hit. Chesapeake Bay fishermen have also reported declines in oyster harvests due to heavy rains that lowered the bay's salinity.
Thanks to Brian Frizell for contributing to this post.