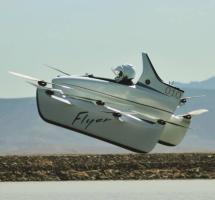 Two years ago, we posted about an all-electric "flying car" which was actually more of a single passenger seaplane, as it took off and landed on the water. The startup named Kitty Hawk has major funding from Larry Page, the billionaire co-founder of Google. Now Kitty Hawk is seeking to test their updated version of the craft in New York Harbor. Whether or not this is a good idea remains to be seen.
Jersey Digs reports that the company filed plans with the New Jersey Department of Environmental Protection (NJDEP) in connection with a proposal to bring its Flyer aircraft to Jersey City's Hudson River waterfront.
Kitty Hawk submitted "waterward" and "landward" waterfront individual permit applications in August as part of its vision to develop a "temporary hangar and one temporary floating dock for the [Flyer] test pilot program," according to NJDEP filings. The facility in question would be situated along Hudson Street, but the specific location is not yet clear.
Kitty Hawk describes the Flyer as an all-electric VTOL (vertical take-off and landing) vehicle powered by 10 independent lift fans. The craft is a single-seater that operates between 3-10 feet off the water. Flyer has already successfully flown over 25,000 times.
The Kitty Hawk Wikipedia page states that the production Flyer was revealed on June 6, 2018: it does not need a pilot license as it is built under US FAR Part 103 ultralight regulations. The Flyer has a published range of about 6 NM and an operating time of 20 minutes. It can typically fly at 20 mph, with a top speed of 30. It has a maximum service ceiling of 20 feet.
Kitty Hawk Flyer: Fully Electric Personal Aircraft I Fortune