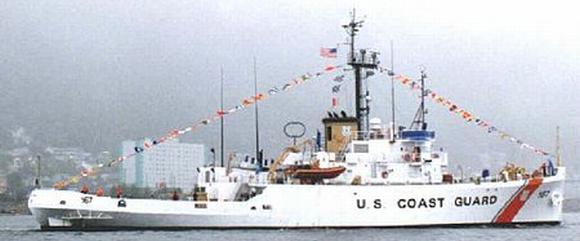 The strange saga of the USCGC Acushnet continues. Back in 2011, Acushnet, the oldest serving cutter in the U.S. Coast Guard was put up for sale. She was purchased by a con-man named Vernon Officer who bought the cutter using someone else's money. The cutter was subsequently abandoned and Mr. Officer was imprisoned for cheating an elderly widow out of her life savings. The cutter, however, has been cared for and is reportedly in reasonably good shape. She is currently for sale for $250,000.
Peter Swanson, writing in Passagemaker.com quotes the current listing broker for the ship:
The guys who bought it did not seem to know how to run it. They took the ship to Friday Harbor, Washington and apparently promptly lost the anchors. At that point the USCG took control and towed the ship to Lovrics Marina in Anacortes. There it sat, apparently these guys abandoned the ship, and after a few years, Lovrics gained legal ownership. That is who owns it, despite some 'noise" online that it was sold; it was not. Lovrics has spent a lot of money maintaining and bringing the machinery up to "good running" status. The ship is pretty much ready to go, but a prudent buyer would probably haul out and inspect/maintain the hull before taking the ship into the ocean. We get literally hundreds of hits on our website every month, and dozens of direct inquiries, I guess mostly from "dreamers".
Acushnet is 213′ x 39′ x 19′ and was built in 1943 as USS Shackle (ARS-9), a US Navy Diver-class rescue and salvage ship for service in World War II. She was responsible for coming to the aid of stricken vessels and received three battle stars, before beginning a long career with the Coast Guard. Acushnet patrolled the waters of the North Pacific and was one of the last World War II-era ships on active duty in the US fleet upon her retirement in 2011.