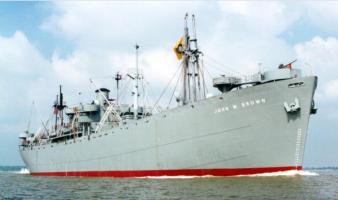 A year ago, we posted about the search for a berth for the Liberty ship John W. Brown. Now, the ship, the last surviving troopship from World War II, must find a new home by the end of the year due to the expiration of its current lease on Pier C on Clinton Street. From the Project Liberty Ship press release:
For several years the ship was housed at a Clinton Street pier owned by the state of Maryland, but that pier was sold and the lease arrangement that enabled the Brown to stay at that pier expired. The new pier owners generously offered S.S. JOHN W. BROWN an alternate berth at Pier C on a temporary basis and have been cooperative and flexible with Project Liberty Ship's uncertain and ever-developing future. However, the current lease agreement, despite several extensions, is expiring at the end of 2019.
Michael Barnes, a member of Project Liberty Ship who coordinated the pier search effort, reports that fewer than a dozen available commercial piers in Baltimore are large enough to accommodate the historic vessel. Many of these piers are already being leased to the federal government and most require security restrictions that hinder the educational and tourist activities the Brown frequently hosts onboard. The Project has considered buying a pier but found that available sites are in disrepair and would require lengthy—and costly—construction work. Given the expiration date of the current lease agreement and being a 501 (c) 3 non-profit organization, time and funding is very limited.
As a last resort, the board is considering moving to another port, which would take the Brown away from Baltimore's maritime heritage, the birthplace of the vessel and the home-base of a majority of the volunteers onboard. The 77-year-old ship, named after a maritime labor leader, was launched at Bethlehem Steel's Fairfield Shipyard in Baltimore on Labor Day in 1942. It is listed in the National Register of Historic Places, which designates buildings, districts, sites, structures and objects worthy of preservation in America.
Of the more than 2,700 Liberty ships built during World War II, only two are still operational in the United States. John W. Brown is the last surviving troopship. Since being restored by volunteers in 1991, the museum ship has sailed more than 25,000 miles and visited 29 ports in the United States and Canada.