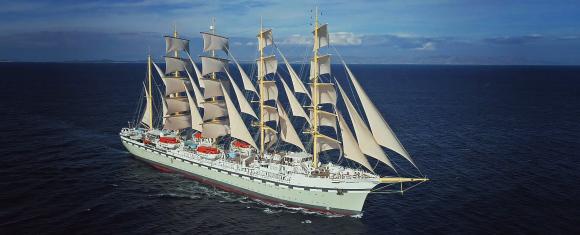 While this may not appear to be the best time to start a new cruise venture, if all goes well, in the Spring of 2021, Tradewind Voyages will offer voyages on the Golden Horizon, a 272 passenger five-masted barque. Setting 68,000 square feet of sail, or over twice the sail area of the clipper ship Cutty Sark, she is the largest square-rigged sailing ship in the world. The design of the ship was inspired by the France II, built in 1913.
Some of this may sound familiar. For the last five years, we have been following the construction of the Flying Clipper for Star Clipper Lines. Last year we posted about a contract dispute between Star Clipper and the Croatian shipyard Brodosplit. Unable to come to terms, the shipyard took over the ship. Reportedly, Brodosplit still owns the square-rigger which is, or will be, chartered to the UK based Tradewind.
Reports are that initially, the ship will offer seven voyages from Harwich in East Anglia and two from Glasgow. A round-Britain voyage will include a stop off Cowes in the Isle of Wight for the traditional regatta fireworks, the Scilly Isles and the Channel Islands.
The ship will also sail to Denmark, Iceland, the Norwegian fjords and the Baltics.
From September 2021, Golden Horizon will sail east through the Suez Canal and follow the Maritime Silk Route to Jakarta in Indonesia and on to Bali. All voyages have been planned to take advantage of prevailing winds and the currents, often following traditional trading routes.
Voyages in late 2021 and into 2022 will feature Australia, the Indian Ocean, Japan, Alaska, the Americas, and the Pacific Islands.
Thanks to Irwin Bryan for contributing to this post.