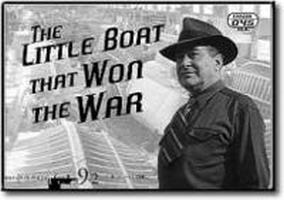 I am aware of only one man who was praised by both Eisenhower and Hitler. A repost on the 77th anniversary of D-Day.
General Dwight David Eisenhower said that "Andrew Higgins … is the man who won the war for us. … If Higgins had not designed and built those LCVPs, we never could have landed over an open beach. The whole strategy of the war would have been different."
Adolph Hitler referred to Andrew Higgins as the "new Noah," though his admiration was more begrudging. On the 77th anniversary of the Normandy landings, better known as D-Day, it seems worthwhile to remember Andrew Higgins and the amazing Higgins boat.
Andrew Jackson Higgins was a high school drop-out from Nebraska, who came to New Orleans, Louisiana to get into the timber business. He soon branched out to building boats which operated in the shallow waters of the swamps, hauling out felled trees. Prior to World War II, the Navy's landing craft were antiquated and cumbersome. Higgin's design, based on his shallow water workboats, proved superior, despite objections by the Naval Bureau of Construction and Repair. The Marine Corps was a major supporter of the Higgins' design because it was simply better than anything that the Navy had to offer.
The first boat, dubbed Landing Craft Personnel (Large) or LCP (L), still required the soldiers on board to disembark by jumping over the bow or the sides. Inspired by a Japanese landing craft design, Higgins added a bow ramp to his design, allowing 36 fully equipped soldiers to charge down the ramp onto the beach as soon as the ramp was dropped. The design, dubbed Landing Craft, Vehicle, Personnel (LCVP), but better known simply as the Higgins boat, would change the course of the war, allowing amphibious landings over open beaches without the need to capture deepwater ports. The D-Day landings in Normandy would not have been possible without the Higgins boat.
The Higgins Boats that won WWII
The Higgins boats were only 36′ long with a 10′ beam. They were built of plywood with a steel ramp door. Despite their small size, the boat could carry 36 men or a jeep and 12 men, or 8,000 pounds of cargo. A larger variant, the LCM, Landing Craft Mechanized could carry a tank.
The Higgins boats led amphibious operations including Operation Overlord on D-Day in Nazi German-occupied Normandy, as well as Operation Torch in North Africa, the Allied invasion of Sicily, Operation Shingle and Operation Avalanche in Italy, Operation Dragoon, and in the Pacific Theatre at the Battle of Guadalcanal, the Battle of Tarawa, the Battle of the Philippines, the Battle of Iwo Jima and the Battle of Okinawa.
More than 20,000 Higgins boats were built by Higgins Industries and licensees.