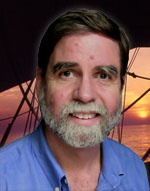 Hello, and welcome to the Old Salt Blog.   I am Rick Spilman, your host.   The Old Salt Blog is a virtual port of call for all those who love the sea, whether from the deck of a ship or boat or from the pages of a novel. Pull up a chair by the fire and make yourself at home.
My first novel, Hell Around the Horn, a nautical thriller inspired by the voyage of a British windjammer in the particularly brutal Cape Horn winter of 1905, is now available on Amazon.
I am a writer, a sailor, a naval architect, a student of maritime history, a videographer and a multimedia designer, among other things. I have served, albeit briefly, as volunteer crew on "HMS ROSE" and "HMS BOUNTY" and have sailed on modern vessels of my own and with friends on the New England coast, the west coast of Florida, the Caribbean,  the Great Lakes and the southwest cost of Ireland.  I am also an avid sea kayaker.  I am married and the father of two amazing sons.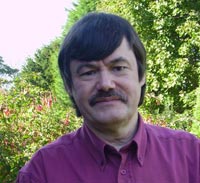 Alaric Bond is a frequent contributor to the Old Salt blog. He is the author of The Jackass Frigate, His Majesty's Ship,and True Colours.  His novels are set during the Revolutionary wars but differ from the normal Hornblower/Aubrey sagas in that there is no "hero who becomes an admiral", rather characters from all divisions of the ship are featured, some to prosper, while others fail; many will continue in future books.
In his own words:
I was born in Surrey, and now live in Herstmonceux, East Sussex, in a 14th century Wealden Hall House, and am married with two sons.
My father was a well known writer; mainly of novels and biographies, although he also wrote several screenplays. He was also a regular contributor to BBC Radio drama (including Mrs Dale's Diary!), and a founding writer for the Eagle comic.
Much of my early life was hampered by Dyslexia, although I now consider the lateral view this condition can give to be an advantage. I've been writing professionally for over twenty years with work covering broadcast comedy (commissioned to BBC Light Entertainment for 3 years), periodicals, children's stories, television and the stage. I am also a regular contributor to nautical magazines and newsletters.
My interests include the British Navy 1793-1815 and the RNVR during WW2. I regularly give talks to groups and organizations and am a member of various historical societies including The Historical Maritime Society and the Society for Nautical Research. I also enjoy Jazz, swing and big band music from 1930-1950 (I've played trombone for over 40 years), sailing, old SAAB convertibles and badgers.