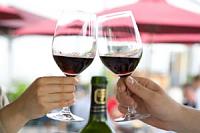 A post from five years ago, which is still fitting for the day.
Happy 4th of July! Those of us in the United States celebrate the anniversary of the adoption of the Declaration of Independence on July 4th 1776. Immediately after declaring independence from Great Britain, the representatives in the Continental Congress drank a toast with glasses of Madeira wine.
Why Madiera? It was virtually the only wine available in the American colonies at the time. Wine carried by sailing ship was often spoiled in transit by the constant jostling of the ship and the wide variations of heat and cold. Wine from the island of Madeira, however, was fortified with a small amount of sugar cane brandy to help it survive the ocean voyage. Not only did the fortified wine survive the voyage but it was found that the heat and motion of the ship actually improved the quality of the wine.