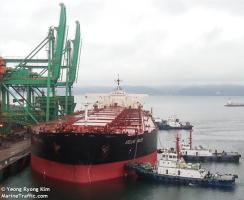 So far, only two of the crew of 24 have been rescued after the Very Large Ore Carrier (VLOC) Stellar Daisy capsized and sank suddenly on Friday, March 31st. The 266,00 DWT Marshall Island registered bulk carrier was reported to have been in calm conditions, roughly 2000 miles off Montevideo, Uruguay, when she capsized. The ship departed from Brasil bound for China on March 26 with a full load of iron ore. The Stellar Daisy had a crew of 14 Filipinos and eight South Koreans.
On Friday, someone on the ship sent a text message to Polaris Shipping, the ship's owner, saying the freighter was taking on water. The ship managers attempted to contact the ship but to no avail. Not long after, an emergency rescue beacon was activated.
The two Filipino crew members who were later rescued reported that the Stellar Daisy had developed a 15 degree list, making the ship's boats unlaunchable. One of the men escaped on a ship's life raft and the other jumped into the water and swam away from the capsizing ship. The capsize was reported to have taken place in only about 5 minutes. The survivors said that they saw cracks in the plating on the main deck through which water was flooding in.