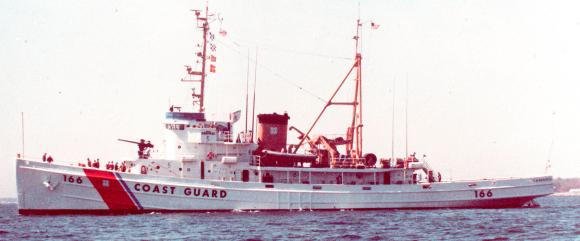 The historic USCG CutterTamaroa will soon be sunk as an artificial reef in the Atlantic Ocean 25 miles south of Cape May Point, New Jersey.  The old ship has had a remarkable history.  Built in 1943 as USS Zuni, the 205-foot fleet ocean/salvage tug and one of seventy Cherokee-class fleet tugs saw service in World War II in campaigns in the Marianas, the Philippines, and at Iwo Jima.  After the war, she was transferred to the US Coast Guard and renamed Tamaroa.  
USCGC Tamaroa had a 48 year long career in US Coast Guard, serving on safety patrols, in drug interdiction and fisheries protection. She was the first Coast Guard Cutter to arrive at the sinking passenger liner Andrea Doria after the collision with the the Swedish liner Stockholm 1956. Tamaroa may be best known for rescuing the crew of the yacht Satori, as well as the crew of a downed Air National Guard helicopter during the "Perfect Storm" of 1991,
described in Sebastian Junger's book, The Perfect Storm.