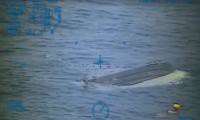 On Friday, two 14 year old boys went missing in the Atlantic off Jupiter, FL. Their 19′ boat was found capsized on Sunday night. The Coast Guard, and now the Navy, is continuing the search for the teens, Austin Stephanos and Perry Cohen.
The missing boys reminded me of how easily that could have been me, almost a half century ago. Open water can be such a glorious and also very dangerous place if you are young, adventurous and think that you know what you are doing.
When I was around 15, my family moved to Treasure Island on the west coast of Florida. I got a job cleaning boats at a local marina and saved enough to buy an old 16′ runabout with a 33 hp outboard motor.  Most of the time I used the boat to run around the sheltered waters of Boca Ciega Bay, but I would often head out through John's Pass into the Gulf of Mexico to go fishing or just cruise around offshore.