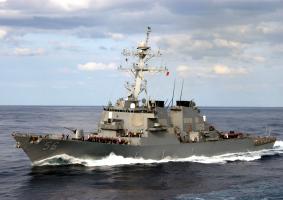 In the second major collision between a US Navy destroyer and a merchant ship in the last three months, the USS John S. McCain was damaged in a collision with a tanker near Singapore. Five sailors were injured and 10 are missing. There are reports of flooding in berthing compartments as well as machinery and communication rooms. Despite the damage, the destroyer was able to proceed under its own power to Singapore's Changi Naval Base.
The US Navy announced: The guided-missile destroyer USS John S. McCain (DDG 56) was involved in a collision with the merchant vessel Alnic MC while underway east of Singapore and the Strait of Malacca on Aug. 21.
The collision was reported at 6:24 a.m. Japan Standard Time, while the ship was transiting to a routine port visit in Singapore. Initial reports indicate John S. McCain sustained damage to her port side aft. Search and rescue efforts are underway in coordination with local authorities.