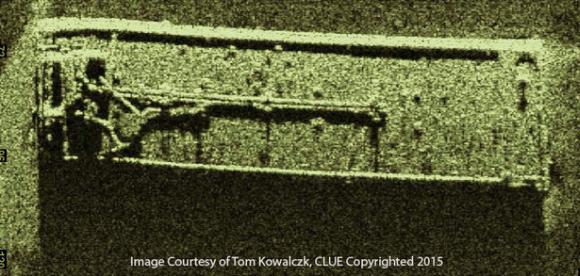 This weekend the US Coast Guard recovered 10,000 gallons of benzene from the wreck of a tank barge that sank 78 years ago in Lake Erie. The Coast Guard has pumped the first of 8 tanks on the wrecked barge.
In August, Tom Kowalczk, a member of the Cleveland Underwater Explorers (CLUE), discovered the wreck of the 125′ long tank barge Argo in 45 feet of water 8 miles east of Kelley's Island Shoal. The divers noted a strong chemical odor in the water. According to the National Oceanic and Atmospheric Administration (NOAA), the Argo sank intact carrying more than 100,000 gallons of crude oil and benzol.  Benzol is a coal-tar product consisting mainly of benzene and toluene. The National Museum of the Great Lakes in Toledo says that the 4,700 barrel barge was operating illegally when it sank on Oct. 20, 1937, while under tow by the tug Syosset.
Michigan Live.com reports: The National Oceanic and Atmospheric Administration (NOAA) has described the Argo as the worst pollution threat from a Great Lakes shipwreck.