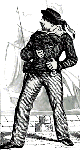 Stan Rogers, the late Canadian folk sing/songwriter, sang a song about an ill fated privateering voyage during the American revolution called "Barrett's Privateer's". He was often asked where he learned the song. Most assumed that it was a traditional folk song. Many of the references and details are accurate and appropriate to the period. Nevertheless, Rogers wrote the song around 1976. (Dan Conlin posted an interesting discussion separating the truth from the fiction in Barrett's Privateers.)
I recently learned that "Fiddler's Green" another "traditional sea song" that I am very fond of may not be quite as old or traditional as I might have thought. The song apparently was written and copyrighted in the 1960s by John Connolly, a songwriter from Lincolnshire, England. There is as I've learned, a lot more to it than that.
I think the first time I heard Fiddler's Green was in the mid 70s, in New York City, sitting on a rotting pier in the East River, listening to Bernie Klay and the X-Seaman's Institute singing sea shanties in free concerts on Tuesday nights at the South Street Seaport. (This was well before the Seaport morphed into the touristy shopping mall that it has become today.)
The song Fiddler's Green tells of a sailor's heaven, or as the song goes, "where all sailor's go if they don't go to hell." Fiddler's Green is based on an old Irish legend "that a sailor can find the paradisaical village by walking inland with an oar over his shoulder until he finds a place where people ask him what he's carrying.
"This legend may have some of its origin in Tiresias' prophecy in Homer's Odyssey, in which he tells Odysseus that the only way to appease the sea god Poseidon and find happiness is to take an oar and walk until he finds a land where he is asked what he is carrying, and there make his sacrifice."
Some sources suggest that the Fiddler's Green was adopted by pirates, who were unlikely to find their way into Christian heaven, so they simply created their own paradise after death, "where the girls are all pretty and the beer it flows free and there's bottles of rum hanging from every tree."
Somehow the legend of Fiddler's Green was taken up by the US Cavalry some time around the 19th century.    One source suggests that it was introduced by the dragoons from the Fifth Royal Irish Lancers who emigrated to the United the United States after the regiment was disbanded in 1799.  A calvary ballad, published in 1923, thought thought by many to be much older, begins:
"Halfway down the road to hell,
In a shady meadow green,
Are the souls of all dead troopers camped
Near a good old-time canteen.
And this eternal resting place
Is known as Fiddler's Green"
How did Fiddler's Green go from a Irish legend to a sailor's paradise to a calvary trooper's resting place then back to a sailor's/fisherman's paradise in a song written by an English songwriter in 1970?
The obvious answer is that no one knows but there is an interesting link through a nineteenth century song, The Tarpaulin Jacket. The words were written by G. J. Whyte-Melville (1821-1878). The air was written by Charles Coote.
"Charles Coote was half owner and director of Coote and Tinney's Band, the premier London dance orchestra in the 1850s. Coote was still active in the late 1880s, publishing Burlesque Lancers and the polka Hanky Panky in 1887-8.
George John Whyte-Melville was a British novelist born in Strathkinnes Fife on June 19, 1821. Whyte-Melville graduated from Eton in 1839. He became captain in the Coldstream Guards in 1846 and retired in 1849."
The original song may have been about a dying lancer but a tarpaulin jacket, a jacket of canvas coated in tar to make it waterproof, was standard gear for sailors.  The song was quite popular and was adapted for sailors.  The American folk singer, Burl Ives, sang a seafaring version of Tarpaulin Jacket in this album "Down to the Sea in Ships" in 1956.
Both the melody and the lyrics of Fiddler's Green are very reminiscent of Tarpaulin Jacket and it is likely that Joe Connolly used the old ballad as inspiration for his song.
The popularity of Fiddlers Green has been remarkable. Dozens of pubs, restaurants, farms, various small businesses, and even a pro-golf shop have adopted the name.  The Fiddler's Green Amphitheater is a 17,000 seat stadium near Denver.  Several bands have been formed named Fiddler's Green, including a German band that plays "Irish speed-folk", sort of a Celtic punk with a German accent.
To bring the discussion full circle, Stan Rogers came up with the idea to write "Barrett's Privateers" after spending a weekend singing sea shanties with a Canadian folk band based in Toronto. The band's name was Friends of Fiddler's Green.