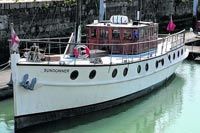 This Wednesday the surviving "Little Ships" of the Dunkirk evacuation will rendezvous in Ramsgate to celebrate the 70th anniversary of the famous World War II evacuation, codenamed Operation Dynamo.
Little Ships gather in Ramsgate for 70th anniversary of Dunkirk evacuations

The 'Little Ships' that played a key role in one of World War II 's most important operations will be making a rare return to Ramsgate as part of the 70th anniversary commemorations of the Dunkirk evacuations.
Around 50 craft which helped to rescue 338,000 British and Allied troops from the beaches around Dunkirk during Operation Dynamo in 1940 are expected, and have already started gathering at Ramsgate's Royal Harbour Marina in preparation for the celebrations next week.
A day of commemorations will be held on Wednesday, May 26, as part of Ramsgate's Dynamo Day, which includes an inspection of the Little Ships and a blessing by the Secretary General and Senior Chaplain of the Mission to Seafarers, along with a reception hosted by the Mayor of Ramsgate.