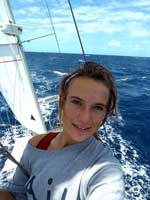 Laura Dekker has celebrated her 16th birthday and has set sail from Darwin, Australia on a westerly course across the Indian Ocean bound for Africa.  Given the concern about piracy in the Indian Ocean, her exact route is being kept secret.   In 2009, teenage circumnavigator Zac Sunderland was shadowed by a boat which may have been pirates near the Cocos Keeling Islands, which may be along Ms. Dekker's route.   In 2010, Zac's sister Abby Sunderland's boat was knocked down and dismasted in the Indian Ocean ending her attempt at solo circumnavigation. Ms. Sunderland attempted to transit the Indian Ocean in mid-Winter whereas  Ms. Dekker will be sailing in the southern hemisphere Spring.
Laura Dekker, 16, sets sail into piracy-plagued Indian Ocean
Thanks to Irwin Bryan for passing the story along.