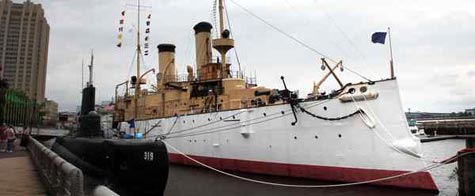 Two groups on opposite coasts of the United States are frantically working to save the 1895 built, SS Olympia, Admiral Dewey's flagship in the Battle of Manila Bay and the last, just barely, surviving war ship from the Spanish-American War. The Mare Island Historic Park Foundation in Vallejo, California and the South Carolina Olympia Committee in Port Royal, South Carolina are the two remaining groups from a set of five cities and six organizations that had applied two years ago to take ownership of the Olympia.  The two groups are now working together to save the historic ship, but time is running out and funds are short.
In February of 2010, the Independence Seaport Museum in Philadelphia announced that it could not afford to keep the historic SS Olympia.  The ship has not been drydocked since 1945 and is, not surprisingly, in terrible shape.  There was even talk of sinking her as an artificial reef, but that possibility was precluded by the estimated $10 million cost to dredge the berth around the old ship in order to move her from the dock in the Delaware River.  Fortunately the scandal plagued museum lacked the money to even sink the ship.
Group trying to land USS Olympia running low on time
The clock is ticking for a a Mare Island group trying to raise money and public attention to save the only surviving steel warship of its era.
The Mare Island Historic Park Foundation is still trying to save and bring the late 1900s USS Olympia and bring it to Dry Dock 1 along the waterfront, but key organizer said much more is needed. 
"A lot of people believe that the government would step in if all else fails but that's not true," Mare Island foundation member Dennis Kelly said. 
"This is to say there's been a lot of effort that's gone into this (saving the ship) and the condition is dire," Kelly said.
The USS Olympia is a 244-foot-long protected cruiser now moored on the Delaware River in Philadelphia and part of the Independence Seaport Museum, which is seeking a new steward.
Kelly said the Mare Island group has a few more months to raise funds and secure major donors to prove the ship should come to Vallejo and be opened as a living museum.
The Mare Island Historic Park Foundation is one of two groups trying to raise enough money to save the Olympia from demise.
In April the organization teamed up with the South Carolina Olympia Committee (SCOC) to work together to raise awareness and money to ensure the aging ship has a bright future.
Kelly said the old vessel is in danger of deteriorating completely. While the two groups are competing for the ship they can also work together to raise national awareness about the need to save.