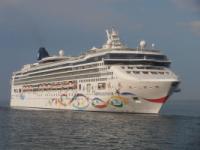 Azipods strike again. The Norwegian Star, operated by Norwegian Cruise Lines, was towed into Melbourne, Australia over the weekend after losing propulsion when the ship's azipods failed, leaving the ship adrift last Friday. In the latest round of failures, the ship's Azipods have been breaking down on cruises since December, which has limited the ship's speed and resulted in cancelled port calls.
Pod failures have been a chronic problem on the Norwegian Star. The sixteen year old ship has had intermittent problems with its Azipod propulsion system for at least the last 12 years, dating back to 2004. Pod failures persisted through 2006 and then reemerged in 2015 and have continued despite NCL efforts to repair the pods.
The Norwegian Star has two rotating pods, each of which extends out from the bottom of the ship. Inside each pod is an electric motor which drives a propeller mounted on the "pod" which can rotate 360 degrees. The pods replace the traditional rudder and stern thrusters and do away with the need for long propeller shaft runs. They are more fuel efficient than conventionally mounted propellers, by around 6-9%, which is a significant. Two manufacturers dominate pod propulsion — Rolls Royce who manufactures the "Mermaid pod" and ABB which manufactures the "Azipod." The Norwegian Star has Azipods. The primary issue with pod propulsion so far has been reliability.
The problem is that all of the thrust of the propeller is transmitted to the ship's hull by the circular bearing that connect each pod to the ship — the bearing that also has to rotate through 360 degrees. These bearings, have not, in many cases, held up to the loads being put on them.
NCL's Norwegian Star is not the only ship which has suffered pod problems. Most modern cruise ships have pod propulsion and most cruise lines have been forced, from time to to time, to take ships out of service due to pod failures. In 2103, we posted about Royal Caribbean's Allure of the Seas — the largest cruise ship in the world, where a pod failure left it toed to the dock. Also in 2013, the Carnival Legend, limped to port with a damaged Azipod. The Norwegian Breakaway was delayed getting to the dock in New York due to an Azipod failure. In 2000 the Carnival Paradise was pulled from service due to failed Azipods. Passengers received $5 million in free trips in a class action lawsuit against the company due to the Azipod failures.
While Azipods have had problems, Carnival and Royal Caribbean have had greater problems with the Rolls Royce Mermaid pods. In 2010, Royal Caribbean settled a lawsuit with Rolls Rolls over pod failures on the Celebrity Cruises' Millennium-class ships. Celebrity is a subsidiary of Royal Caribbean. Rolls Royce reportedly paid Royal Caribbean $65 million for the failures. In 2011, Carnival Cruise Lines was awarded $24 million in a lawsuit with Rolls Royce over Mermaid pod breakdowns.