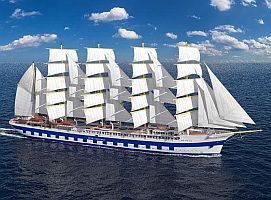 We have been following the progress of Star Clipper's new ship, the Flying Clipper, since her announcement in May 2015, through her keel laying at the Brodosplit Shipyard in Split, Croatia, in December of that year. On Saturday the Flying Clipper was launched at the Brodosplit shipyard.
When the Flying Clipper makes her first voyage, expected in early 2018, she will be the largest square-rigged sailing ship in the world. A five masted barque, she is 532 feet (162 meters) long, with a 60 foot (18.5 meter) beam and will have a sail area of 68,300 square feet (6,347 square meters). By comparison, the tea clipper Cutty Sark set less than half as much sail at around 3,000 square meters.
The ship, which was inspired by the France II of 1912, will have a capacity for 300 passengers and a crew of 150. Flying Clipper will have a gross tonnage of 8,770 GT.
Like the other three Star Clipper ship, the Flying Clipper is primarily a sailing ship with auxiliary engines. Star Clipper also operates the Star Clipper and the Star Flyer, two 170 passenger four masted barquentines, as well as the Royal Clipper, a 227 passenger five masted square-rigged ship inspired by the Preussen. Prior to the delivery of the Flying Clipper, the Royal Clipper was the world's largest square-rigged ship with a sail area of 56,000 ft² (5,202.6 m²).